News
Canning House's new Honorary Vice-President
Canning House is pleased to announce our new Honorary Vice-President, Horacio Rossi from Mott MacDonald!
Canning House

's new Honorary Vice-President

Following the announcements of our new Chair, Nick McCall, and Trustees, Canning House is pleased to announce our new Honorary Vice-President!

Read our new Chair announcement Read our new Trustees announcement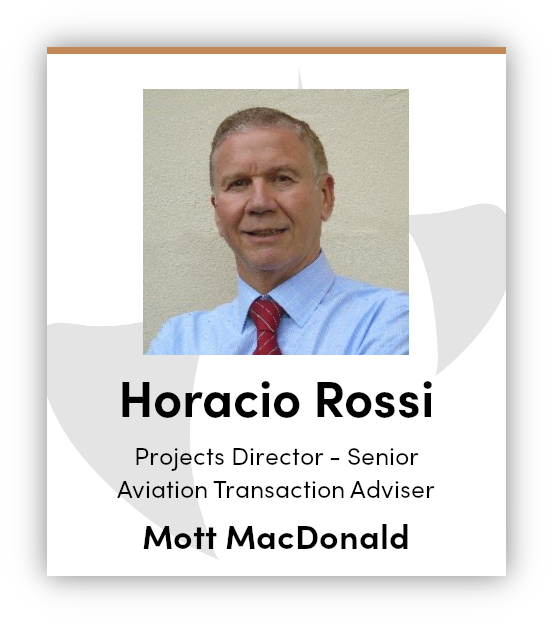 Horacio is responsible for LATAM and Key investor's accounts for Mott MacDonald's aviation division.
With 42 years of experience as a civil engineer, of which 38 in the airport's domain, during the last 25 years he has been involved in aviation PPPs across several continents.
His experience ranges from delivering a greenfield airport, planning, design and construction to infrastructure PPP advisory and business plans, adding value by applying the knowledge and experience gained from being responsible for P&L while operating and managing a cluster of seven regional Airports.
In addition to roles as an aviation expert for the EU Commission grant aid programs and ICAO Technical Cooperation Bureau, he has led technical advisory projects for governments, lenders and investors while working for UK based companies Halcrow, Ch2M Hill and Mott MacDonald.
In Memoriam
In 2020, Canning House has regretted to announce the deaths of two of our long-standing Honorary Vice-Presidents, and former Honorary Presidents, David Montgomery, Viscount Montgomery of Alamein CMG CBE, and Lord Tristan Garel-Jones.
David Montgomery
1928-2020
A lifelong supporter of the Hispanic and Luso-Brazilian Council at Canning House, David was a worthy recipient of the first Canning Medal in 2013. He served as Honorary President from 1987 to 1994, and Honorary Vice-President for the remainder of his life. His range of connections both at home and abroad contributed significantly to the work of Canning House.
Tristan Garel-Jones
1941-2020
A longstanding loyal supporter of Canning House, Tristan saw it through some difficult times, including as Honorary President from 2002 to 2008, and Honorary Vice-President until his death. In 2018, in honour of his long service and many achievements, Tristan was awarded the Canning Medal for his outstanding contributions to the strengthening of UK-Latin American relations.
Both are sadly missed.