1. INTRODUCTION
1.1 1.1 The following terms and conditions apply to all event bookings and registrations, for all speakers and attendees.
1.2 Please read these terms carefully before you submit your order to us. These terms tell you who we are, how we will provide tickets to you, how you and we may change or end the contract, what to do if there is a problem and other important information.
2. INFORMATION ABOUT US AND HOW TO CONTACT US
2.1 Who we are: Canning House, also known as the Hispanic and Luso Brazilian Council (HLBC) is a registered charity in England & Wales (registered charity number 314210). Canning House Ltd, a subsidiary of HLBC is a company registered in England and Wales (company registration number 383775). The registered office is at 126 Wigmore Street, London, W1U 3RZ. Our registered VAT number is 756832792.
2.2 How you can contact us: You can contact us by telephone on 02078115600, or by writing to us at [email protected] or Canning House, 126 Wigmore Street, London, W1U 3RZ.
2.3 How we can contact you: If we have to contact you we will do so by telephone or by email or post using the contact details you provided to us in your order or, if you are a member of Canning House, by using the contact details you provided as part of your application for membership.
3. BOOKINGS
3.1 Our acceptance of your booking request will take place when we email you to accept it, at which point a contract will come into existence between you and us. The contract will end immediately after completion of the event for which you have made a booking.
3.2 If we are unable to accept your booking request, we will inform you of this and will not charge you for the booking. This might be because the event is sold out, because of unexpected limits on our resources which we could not reasonably plan for, or because we have identified an error in the price or description of the ticket or event.
3.3 Tickets issued for events are valid for the named attendee only and cannot be transferred. You may be asked for photographic ID to gain access to the event. If you are unable to provide identification which matches your booking details you may not be able to attend the event.
3.4 During our events and webinars photographs, screenshots or videography may be taken. By agreeing to attend or speak at our events/webinars you are consenting for Canning House to take photographs/screenshots/video of you, which may be published on our website, on social media, or in printed material.
4. YOUR RIGHTS TO MAKE CHANGES TO A BOOKING OR CANCEL A BOOKING
4.1 If you wish to make a change to the booking you have placed with us please contact us. We will let you know if the change is possible. If it is possible, we will let you know about any changes to the price of the ticket or anything else which would change as a result of your request and ask you to confirm whether you wish to go ahead with the change.
4.2 Cancelation: If for any reason a corporate event or a public event is cancelled, anyone who has already purchased a ticket will be eligible for a full refund. For public events, if you have already purchased a ticket and can no longer attend, you are entitled to a full refund up to 48 hours before the event. For corporate events, if you have already purchased a ticket and can no longer attend, our cancellation policy is as follows: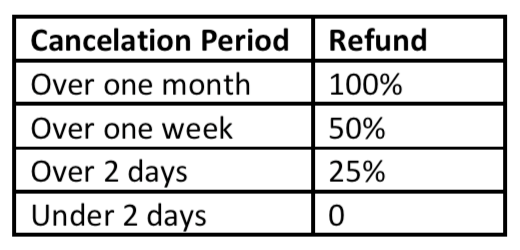 5. OUR RIGHTS TO MAKE CHANGES
5.1 We may need to change times, dates, venues or other details of events after you have booked and/or purchased a ticket. We reserve the right to do so. If we make a significant change which would constitute a material alteration, we will notify you and you may then contact us to cancel your booking and receive a refund for the price paid for the booking.
6. PROVIDING THE TICKETS
6.1 Upon registering for an event, our website will automatically issue an e-ticket confirmation, which you will be required to show to gain entry to the event. If you do not receive an email within 24 hours, please email [email protected].
7. PRICES AND PAYMENT
7.1 Our prices are quoted in Pounds Sterling and include VAT.
7.2 Accepted methods of payment include: Visa, MasterCard and American Express debit or credit cards.
7.3 You must pay for tickets when placing your order. You will receive a confirmation email when the booking is successful, but this will be subject to credit or debit card verification.
7.4 It is your responsibility to check the confirmation you receive and to let us know if you think there are any errors.
8. HOW WE MAY USE YOUR PERSONAL INFORMATION
8.1 Information on what personal data we collect and process and how we may use this is available here on our website, privacy policy. We only use your personal information as set out in this Privacy Notice.
9. GENERAL
9.1 We may transfer our rights and obligations under these terms to another organisation. We will always tell you in writing if this happens and we will ensure that the transfer will not affect your rights under any confirmed booking.
9.2 These terms and any non-contractual obligations arising from or connected with your booking shall be governed by the laws of England and Wales and, subject to Clause 9.3, any dispute shall be subject to the exclusive jurisdiction of the English courts.