News
Latin America Food & Drink Conference
This conference looked at opportunities for boosting UK/Latin America food & drink trade.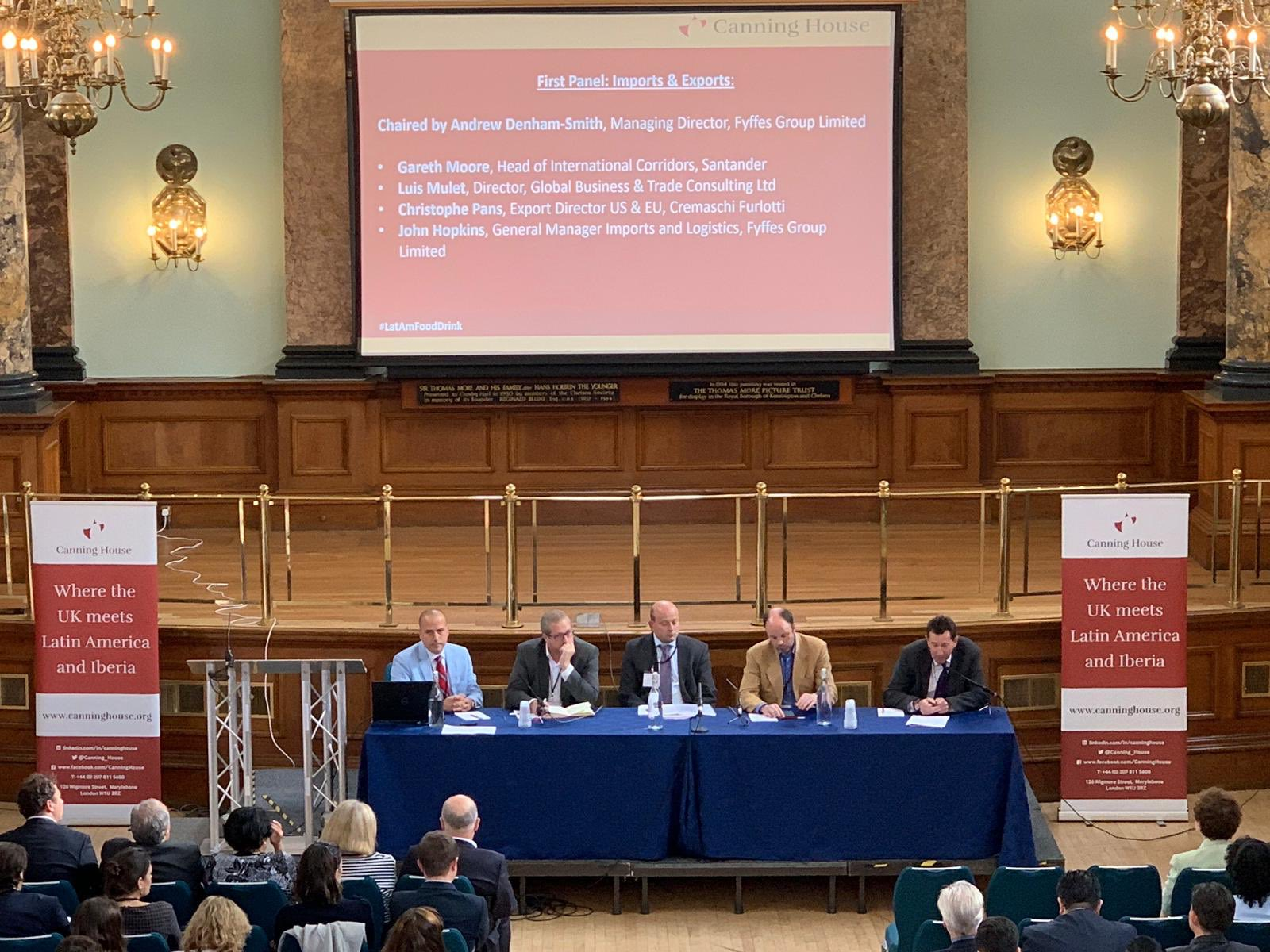 Yesterday Canning House hosted a conference to explore the opportunities the food & drink industry offers to increase exports and form new partnerships between the UK and Latin America. Currently, both exports and imports from the UK and Latin America account for less than 2% of each partner's global food and drinks exports and imports. However, as the panel discussions and bustling trade fair highlighted, there is great potential for export growth in both regions. 
Welcoming words were given by Cristina Cortes, Canning House CEO, and Neil Wynn-Jones MBE, Specialist Adviser in International Trade at the Department for International Trade. 
Gunther Baumgarten, Editor at LatinNews, then presented the findings from the latest Canning Paper, which gives an overview of the key areas for boosting trade in the sector. The paper highlights that there is increasing appetite for UK food and drink in non-EU countries, as well as more demand for Latin American products in the UK. 
The first panel examined  the import / export process between the UK and the Latin American region. Excellent insights were given by Christophe Pans, representing Cremaschi Furlotti, a Chilean winery, Gareth Moore, from Santander, Luis Mulet, Global Business & Trade Consulting Ltd, and Andrew Denham-Smith and John Hopkins, Fyffes Group Limited.
The second panel considered some of the barriers to UK-LatAm trade in the food & drink sector, from logistical challenges to perception problems, and strategies for overcoming these. Elsa Fairbanks, Food and Drink Export Association, and Jose Puyana, ProColombia, were able to offer valuable advice to UK companies from both sides of the import/export process. Neil Wynn-Jones MBE spoke about his own experiences working in the food & drink sector in Latin America, and more about how the government can help companies interested in tapping into new markets.
The conference ran alongside a trade fair, showcasing a diverse range of products from Argentina, Bolivia, Colombia, Costa Rica, Cuba, Chile, the Dominican Republic, Honduras, Ecuador, Mexico, Nicaragua, Peru and Uruguay. At a time when the UK is looking further afield to meet its demand for foreign food & beverages, Latin America's abundance of delicious fresh produce and processed goods, and readiness to trade, make it a key trading partner going forward.