Canning House Research Forum
Canning House and the LSE have launched the Canning House Research Forum at the LSE.
The Forum will be hosted by the LSE Latin America and Caribbean Centre and will be a multi-year rolling programme of research and policy engagement around the overarching theme of "The Future of Latin America and the Caribbean" with particular reference to UK-Latin American relations.
The programme will consist of a series of individual, policy-focused research projects aiming to advance knowledge and offer insights of practical application to political, economic, social and business policy-making.
Output from the programme will be published through our websites, through social media and as reports at 12-18 month intervals. There will also be a suite of associated events in the UK and Latin America, directed at audiences drawn not only from academia but also from governments, parliaments, embassies, businesses, chambers of commerce, think-tanks and private individuals - to showcase, discuss and build upon the implications of the research for practical policy.
Learn more about the Canning House-LACC partnership here.
Visiting Fellowships
In 2019 Canning House and King's College London launched a new Visiting Fellowship. The aim of the Fellowship is to provide an opportunity for Latin American academics to enrich their research using the extensive Canning House Library Collection, housed at King's College London. 
The research project undertaken should fall within one of the following thematic areas:
Migration between Europe and Latin America from 1800 to the present, its history and political, social and economic impacts  – with a special focus on Britain as a source or recipient of migration.
Slavery and forced labour (historic and modern) – in Latin America, Iberia and the UK.
The Sports Diaspora – sport-driven transfers between Latin America and Europe (esp. UK) and their impact on sports (especially but not exclusively football).
Race and opportunity –  a comparative history of the development of racial and indigenous rights, their protection and promotion in Latin America, Iberia and the UK.
Introducing our next Visiting Fellows
The Canning House Library Collection
The Canning House Library was launched in 1948 and was recognised for many years as a key source of information on the Latin world, attracting over three thousand users a year. It continues to be one of the most important collections in the UK for Spanish, Portuguese and Latin American Studies.
In 2012 the bulk of the collection (some 54,000 titles) was transferred to King's College London. With the Foreign Office Collection, the Canning House material provides a significant source of complementary information for a wide range of users. It is managed by a special joint Board and is accessible to Canning House members on request.
Canning Papers
Each year Canning House publishes around six different white papers on political and economic trends and issues in Latin America, as well as papers focusing on specific industries and commercial sectors.
To date, the papers have covered topics as diverse as election analysis, corruption, renewable energy and private equity in Latin America. The papers aim to give Canning House members essential insights into the most pressing socioeconomic and geopolitical issues, and business risks and opportunities in emerging sectors.
Policy Roundtables
Canning House's policy roundtable meetings convene senior representatives from government, business leaders from the private sector, as well as senior individuals from civil society groups and NGOs.
Discussions are held in private to encourage free and open conversation, and a summary of the key points discussed and recommendations made is circulated to those who attended. An executive summary is also made available for public access.
For more information contact [email protected]
Forgotten Histories
Canning House's Forgotten Histories is a public history project, welcoming submissions from anyone with a fascinating story of relationships between Latin America, the UK, and the wider world which has spent too long waiting to be heard.
These submissions will be published on our website such that they will never, truly, be forgotten.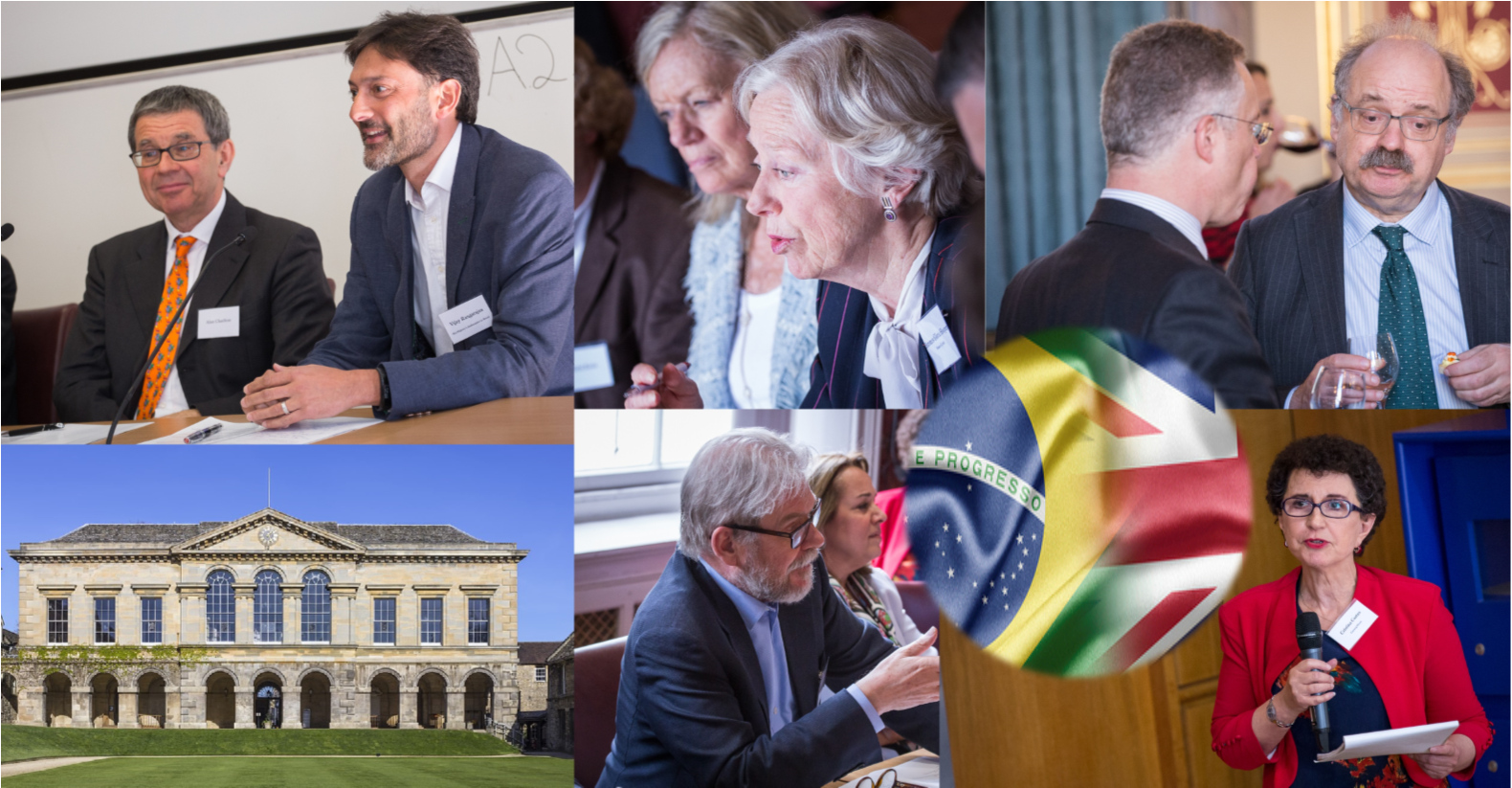 Conversa
The UK-Brazil Conversa is a dialogue between policy makers and influencers, business leaders, academics, diplomats and governments, to help build closer relations and contacts between Brazil and the UK.
About
Founded in 2014 by former UK Ambassador to Brazil, Alan Charlton, the Conversa is an annual forum for influential people from a variety of backgrounds – business, government, diplomacy, academia, think-tanks – to discuss key issues relating to UK-Brazilian relations.
Alternating between the UK and Brazil, it was established to help explore how to make more of the contacts and links between the two countries. In order to encourage free-flowing and open conversations, discussion groups are small and sessions are held under the Chatham House rule.
Participation is by invitation only.
Conversa is a non-profit venture funded by sponsors. It is supported by the Brazilian and British governments. Canning House acts as the secretariat.

Honorary Co-Presidents:
Gilberto Gil, Minister of Culture, Brazil, 2003-2008.
William Hague, Secretary of State for Foreign and Commonwealth Affairs, UK, 2010-2014.

Past Events:
Cambridge, 5-7 September 2014
Held at Cambridge University, this inaugural Conversa included dinners at King's College Cambridge, after drinks at the world-famous King's College Chapel, and at Newmarket racecourse. Ken Clarke, UK Trade Envoy to Brazil, gave a keynote address.
Rio de Janeiro, 21-23 February 2015
Held at the Palacio da Cidade, formerly the residence of the British ambassador and now owned by the City of Rio de Janeiro. Luciano Coutinho gave a keynote address.
London, 12-13 May 2017
Held at King's College London with a reception at the Foreign and Commonwealth Office including an address by Lord Hannay.
São Paulo, 1-2 February 2019
Held at FAAP with keynote addresses by Rubens Ricupero and Mark Prisk MP.
e-Conversa, 3 September 2020
Sponsorship
For information about opportunities for sponsorship, please contact [email protected].