Events
Events 2020
Various locations

January - December 2020
The 2020 events programme is now available!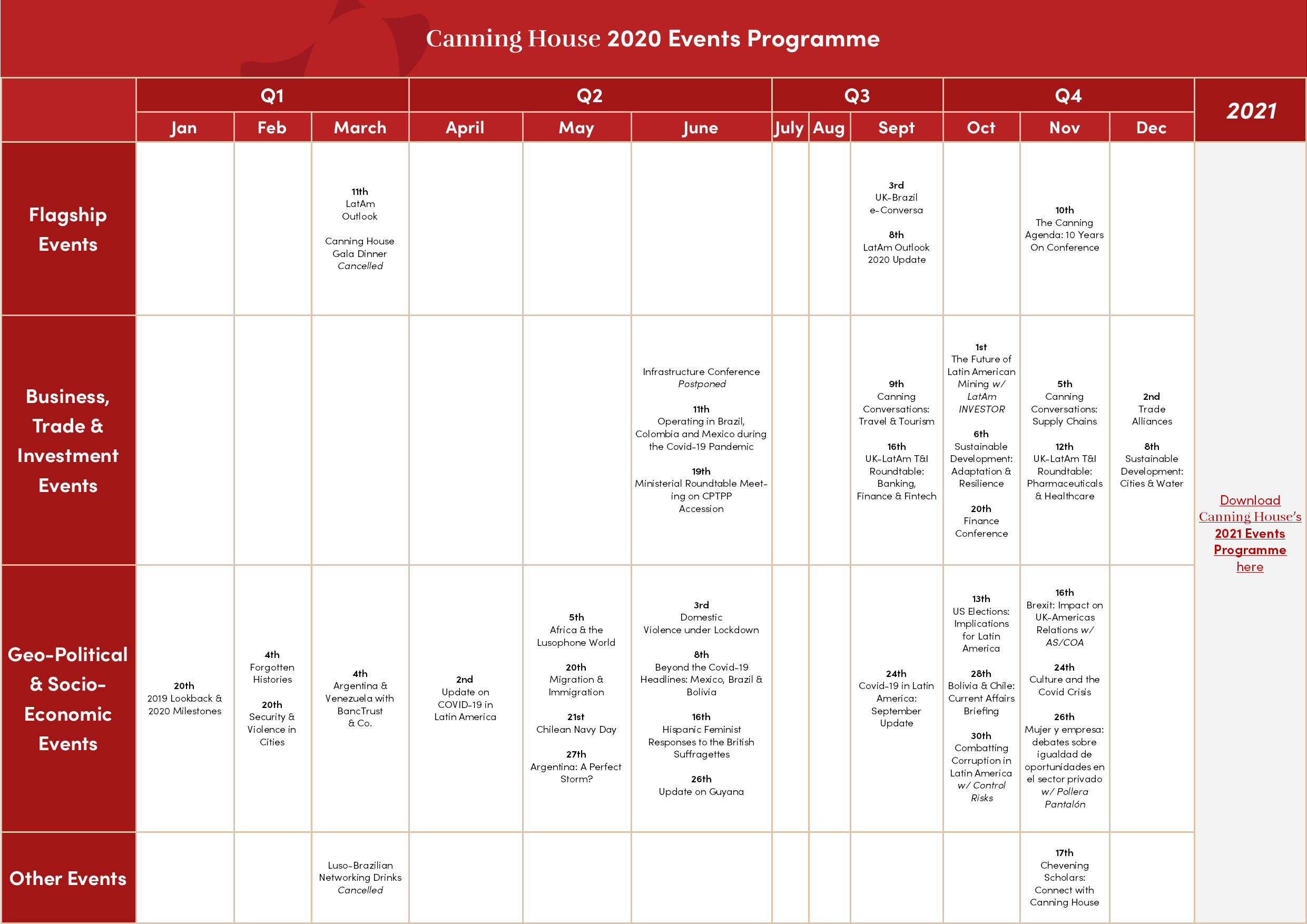 You can now download our 2020 events programme - covering everything from our Flagship and Business, Trade, and Investment events to our Cultural and Social calendars.
Due to the outbreak of Covid-19, we have decided to postpone or cancel a number of our events. However, for Canning House, business continues... but online!
Our Flagship events are the highlights of our calendar. In March, at our LatAm Outlook, we convened senior leaders from business, government, academia, think-tanks and international organisations to create a forecast of the region's political, economic and social changes for next year, and years to come. In September, for the first time, Canning House will also play host to the UK-Brazil Conversa, an annual forum set up to discuss key issues relating to UK-Brazilian relations - this time, online! Of course, some of our planned Flagship events, such as the Canning Agenda 10 Years On conference and our Gala Dinner, are unsuitable for an online format - these we have chosen to postpone, with hopes to run them as soon as we safely can.
For our 2020 Business, Trade & Investment conferences series, we cover a range of sectors, with conferences dedicated to Renewables & Sustainable Development, Oil & Gas, Infrastructure, Finance, Education, and Food & Drink. In the interests of safety under current circumstances, and our desire to provide quality, in-person events when possible, these events have been postponed, but will resume once it is safe to do so.
Through our Geopolitical and Socio-Economic events programme, we address pressing issues in Latin America such as violence & security and migration. This will be complemented by regular Current Affairs Briefings in response to breaking news stories as they happen across the region. These events will be presented online.
With our Cultural programme we hope shine a light on forgotten histories in Latin America, and look at the ways in which the continent is leading in innovative design to tackle the biggest issues our planet is facing.